Steel competence. Since 1946.
Competence, quality, individuality and
speed.
These are our core values that move us every day. And so, we supply steel of outstanding quality that has delighted our customers for decades. Discover what shapes us and what is important to us.

We strive for the highest quality in everything we do - from our products and services to the individual solutions we offer our customers. Our high quality standards and our speed due to our own fleet of vehicles make Pohlmann unique.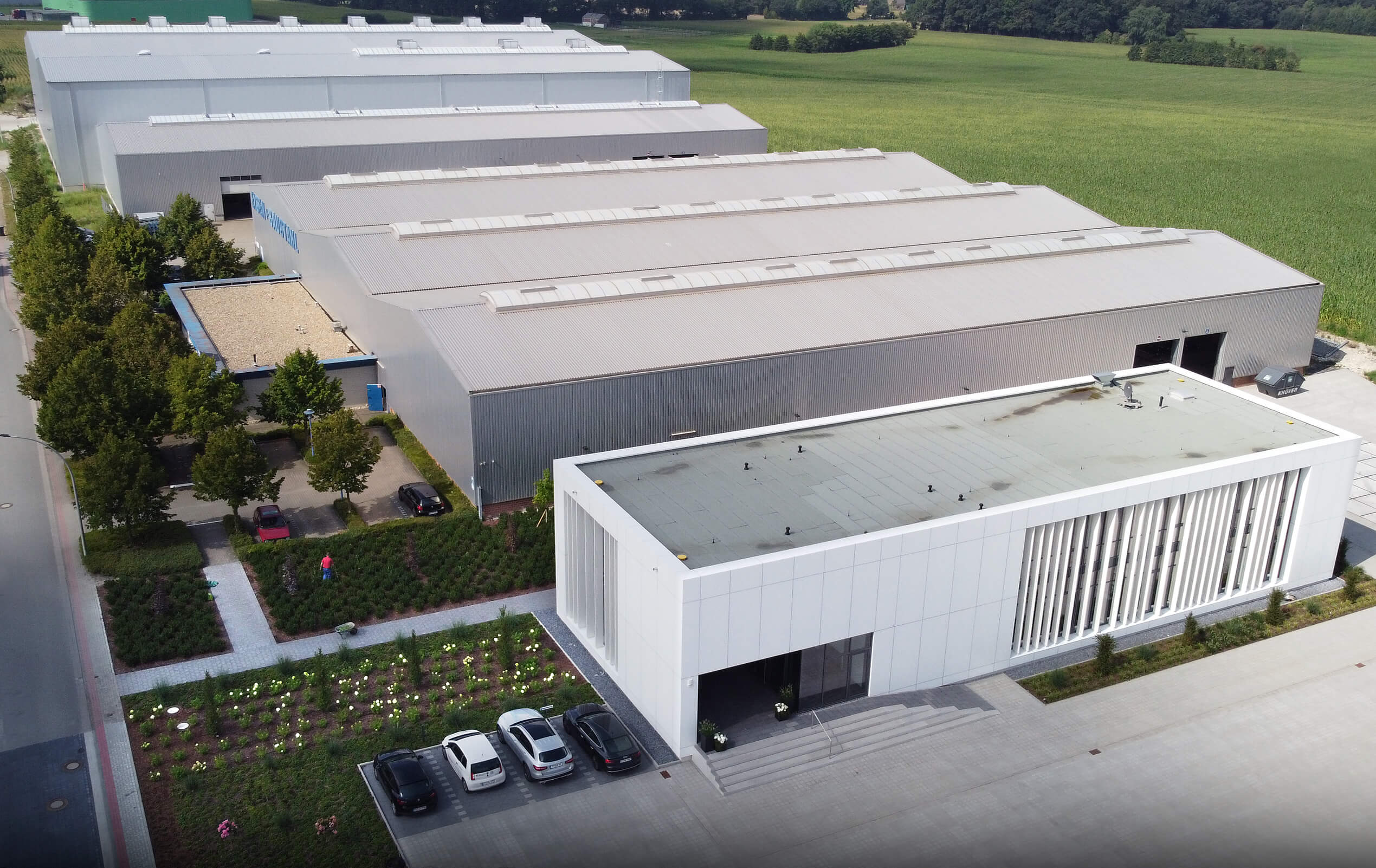 Steel competence. Since 1946.
Fast. Strong in service. Specialised.
This is what Pohlmann has stood for over 75 years.
2022
Installation of a 750 kWp photovoltaic system
2019
Completion of the entire project
2017
Start of the project consolidation of locations, new administration building, new high-bay warehouse, newly built hall 5+6
2010
Stephanie Pohlmann takes over the management of the family business from her mother Ingeborg Pohlmann and her deputy managing director Karl-Heinz Schmidt. Stephanie Pohlmann is supported in her tasks by the long-time employees Hans-Jürgen Lütke- Lefert and Christian Hölters.
2007
Ingeborg Pohlmann took her daughter Stephanie into the management of the current team of 45 employees.
2006
Our company celebrated its 60th anniversary. The focus of the company's development has always been on continuous, solid growth.
2002
We closed the department of reinforcing steel and structural steel mesh and installed a new combined blasting and sawing plant.
1998
Relocation from the Kaiser-Wilhelm-Straße location to the new building of our branch in Wettringen with approx. 4,000 sqm of storage space.
1990
We further expanded our range of seamless steel pipes and quality round steel and moved into the old warehouses on Kaiser-Wilhelm-Straße due to exhausted storage capacity in the Ostendorf industrial estate.
1983
After Hubert Pohlmann's fatal accident, his wife Ingeborg Pohlmann (née Dalmühle) succeeded him.
1977
The company moved to the Ostendorf industrial estate with a storage area of 3,000 sqm. Slowly and prudently, we expanded the storage capacity to 6,500 sqm.
1968
The company headquarters was completely relocated to Borghorst and 5 years later Hubert Pohlmann, who gave the company its name, took over the company with an area of 1,000 sqm.
1952
A second warehouse and sales office were opened on Kaiser-Wilhelm-Straße in Borghorst.
1946
Josef Dalmühle founded the company EISEN + BAUSTAHL in Ahaus under modest conditions. The trade was limited to steel bars, reinforcing steel and construction steel mesh.